Introducing the Metal Jewelry Storage Rack Display: Elevate Your Jewelry Presentation and Organization
The metal jewelry storage rack display is a versatile and stylish solution designed to showcase and organize your precious jewelry collection. Crafted with meticulous attention to detail, this display rack offers a multitude of features that enhance the visual appeal and functionality of your jewelry presentation. Let's explore one of its key features in detail: the customizable color options.
Customized Color: The
metal jewelry storage rack display
allows you to choose a color that perfectly complements your aesthetic preferences and aligns with your brand image. Whether you prefer a classic silver or gold finish to exude an air of elegance or a bold and vibrant color to make a statement, the customizable color options ensure that the display rack seamlessly integrates into your space and enhances the overall ambiance.
Customization also enables you to align the color scheme of the rack with your existing store decor or create a cohesive look for your jewelry exhibition. With the ability to choose from a wide range of colors, you have the creative freedom to design a display that truly reflects your unique style and enhances the visual impact of your jewelry collection.
The customized color feature is especially beneficial for businesses looking to establish a consistent brand identity. By incorporating your brand colors into the display rack, you create a cohesive and memorable shopping experience for your customers, reinforcing brand recognition and loyalty.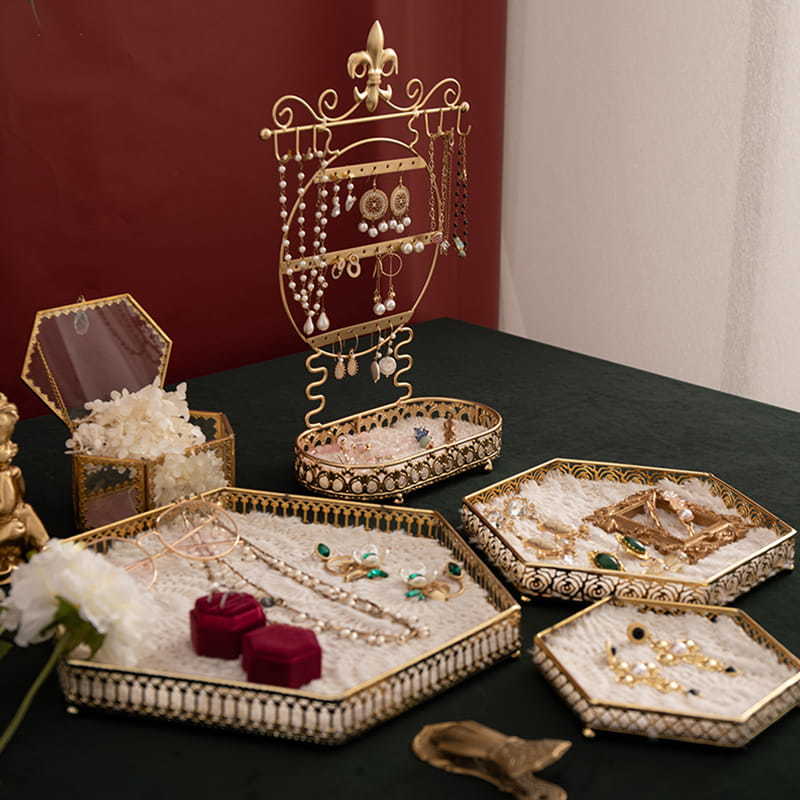 Moreover, the customizable color options extend beyond aesthetics. They also allow you to cater to specific themes or seasonal displays. For example, you can opt for pastel shades for a spring-inspired showcase or rich, warm tones for a cozy autumn display. This adaptability ensures that the metal jewelry storage rack display remains versatile and relevant throughout the year, captivating customers and stimulating their interest in your jewelry offerings.
In addition to its visual impact, the customized color feature contributes to the functionality and organization of the display rack. By assigning specific colors to different types of jewelry, such as rings, bracelets, necklaces, or earrings, you can create a visually intuitive system that facilitates quick and efficient selection and organization. This saves time for both customers and staff, resulting in a smoother and more enjoyable shopping experience.
The ability to customize the color of the metal jewelry storage rack display also allows for effortless coordination with other display elements. Whether you have complementary display cases, shelves, or signage, aligning the colors creates a cohesive and harmonious visual presentation. This attention to detail showcases your professionalism and dedication to creating an immersive and visually captivating jewelry shopping experience.
The customizable color options of the metal jewelry storage rack display offer a range of benefits. From enhancing aesthetics and aligning with your brand identity to facilitating organization and coordination, this feature elevates your jewelry presentation to new heights. Embrace the creative possibilities that the customizable color feature provides and create a visually stunning and efficient display that showcases your jewelry collection with style and sophistication.